Miley & Zeus's Story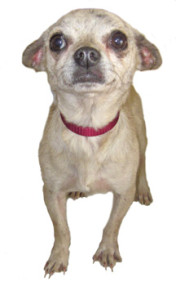 It was a warm August day when Officer Perry of Metro Animal Services received a 911 call about a dog in distress. A neighbor called to report that Miley, an eight-pound Chihuahua, was tangled in a tie-out cable and yelping in pain. Perry arrived and was able to determine that Miley was indeed in distress. The tie-out cable was wrapped tightly around her tiny leg, causing it to bleed and swell. Perry quickly cut the cable, freeing Miley. But that wasn't the end of the story.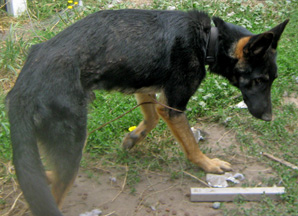 While freeing Miley, Perry saw that she was accompanied by a German Shepherd named Zeus. Zeus was so hungry that he tried to eat Perry's cutting tool. There was no food or water available to either him or Miley. As Perry was preparing to apply for a search warrant to assist Zeus, the owner arrived home and turned over Zeus to Perry. A veterinarian examined him and found that he was extremely emaciated, weighing only 43 pounds. An x-ray showed that his leg had been broken and remained untreated for over a month. Perry charged the owner with animal cruelty, to which he later pled guilty. Zeus was transferred to another rescue organization that could help rehabilitate his broken leg. Miley was soon adopted to a new, loving Forever Family.
Metro Animal Services can only help pets like Miley and Zeus with your help. From the concerned neighbor who reported the situation to you, who directly fund Metro and Officer Perry through your own pets' licenses.
Fisher's Story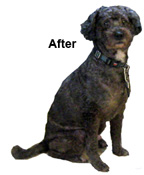 This boy came to the shelter in terrible condition.  He was sullen and depressed, and no one came looking for him.  Something about him, though, caught our attention.  Although not spry and interested, he was extremely polite and under all that grime appeared to be a fairly young dog.  We contacted a local grooming business, who offered to bathe him and give him a haircut to help him find a new Forever Family.  It took all of two hours when an employee of the groomers called the shelter to ask what it would take to adopt him!  She said she was in love and would be excited to offer him a place to call his own.  She completed the paperwork when she brought him back to show how well he cleaned up.  His new name is "Fisher," and he is with his new Forever Family!
Bubula's Story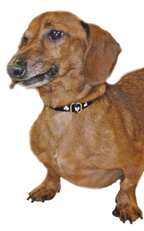 Red-e came to the shelter as a stray.  He was thin, scared, and had teeth so infected it was difficult to be in the same room with him.  There was something special about him, though.  A local veterinarian agreed to donate the necessary dental cleaning, neuter, and ear cleaning so that he could be adopted.  Several hours later, he was returned to the shelter.  They had to remove all but two teeth due to infection.  He finished his medications and found his forever home about a week later.  Here is what his new owner had to say a few weeks after his adoption:
I just wanted to send an update on Red-e, now named Bubula (a Yiddish term of endearment).  He is such a sweetheart.  He is truly a velcro dog.  He loves to sleep with his head pressed to the side of my head where he can snore in my ear.  He enjoys rides in the car and is such a mellow laid back guy.  He has so much love to give and is thoroughly enjoying the one on one attention.  He came to work with me and was a big hit.  He wasn't to timid and would go up to people to be petted.  He is a great fit in my life and we are best Buds.  Thank you for  letting me adopt him, I adore him!
Daisy's Story

Daisy was found wandering the streets with her puppies. When her owners rejected her, Metro Animal Services sheltered and cared for her. Our goal is to find every pet a Forever Family. Today, Daisy is in a loving home with a family she deserves–forever. (She also now loves to run on the beach!) 
Barney's Story
When Barney and his five brothers and sisters were abandoned on the doorstep of Metro Animal Services, they were in heartbreaking condition — filthy, sick and overflowing the tiny container. After sheltering and caring for them, Metro Animal Services found each puppy a loving Forever Family. 

Sherbet's Story
When she was a kitten, someone stuffed Sherbet into a bag with her brothers and sisters and threw the bag out a car window. Many of the kittens did not survive this crushing fall, but Sherbet did. She overcame this traumatic violence to be adopted by a loving family who gave her a Forever Family.